Florida Fiddle Fest, in Jacksonville Beach, Florida, is an offspring of the Walker Family Band Fiddle Camp in Blowing Rock, North Carolina. (There's more information at www.thewalkerfamilyband.com or on Facebook as The Walker Family Band.)
Every summer, since 2003, families with students of all ages meet at the Blowing Rock Conference Center for a week-long musical retreat. Daily classes are held in many styles: Celtic, Old-Time, Eastern European, Classical/Pops, and Bluegrass for many instruments: fiddle, mandolin, guitar, banjo, cello, harp, dulcimer, whistles, bass, ukulele. The schedule is cleverly crafted to include much variety with pottery, photography, yoga, swimming, nature walks, contra dancing, felting, singing and jam sessions, all in a quiet wooded setting.
The Walker Family Band Fiddle Camp's mission is to foster music, peace, and joy in a loving and safe environment. We support each other while building skills in listening, communication, and music. Wonderful families and faculty come to our camp from all over the world.
Several years ago, a need was expressed to meet mid-year, even if only for a few days, to keep the harmony flowing. Florida seemed a perfect choice, and February a perfect time, so our Florida Fiddle Fest has always been on the three-day weekend mid-month. It has grown, but mostly just by word of mouth.
Please see the schedule below to get more specifics on the classes we offer.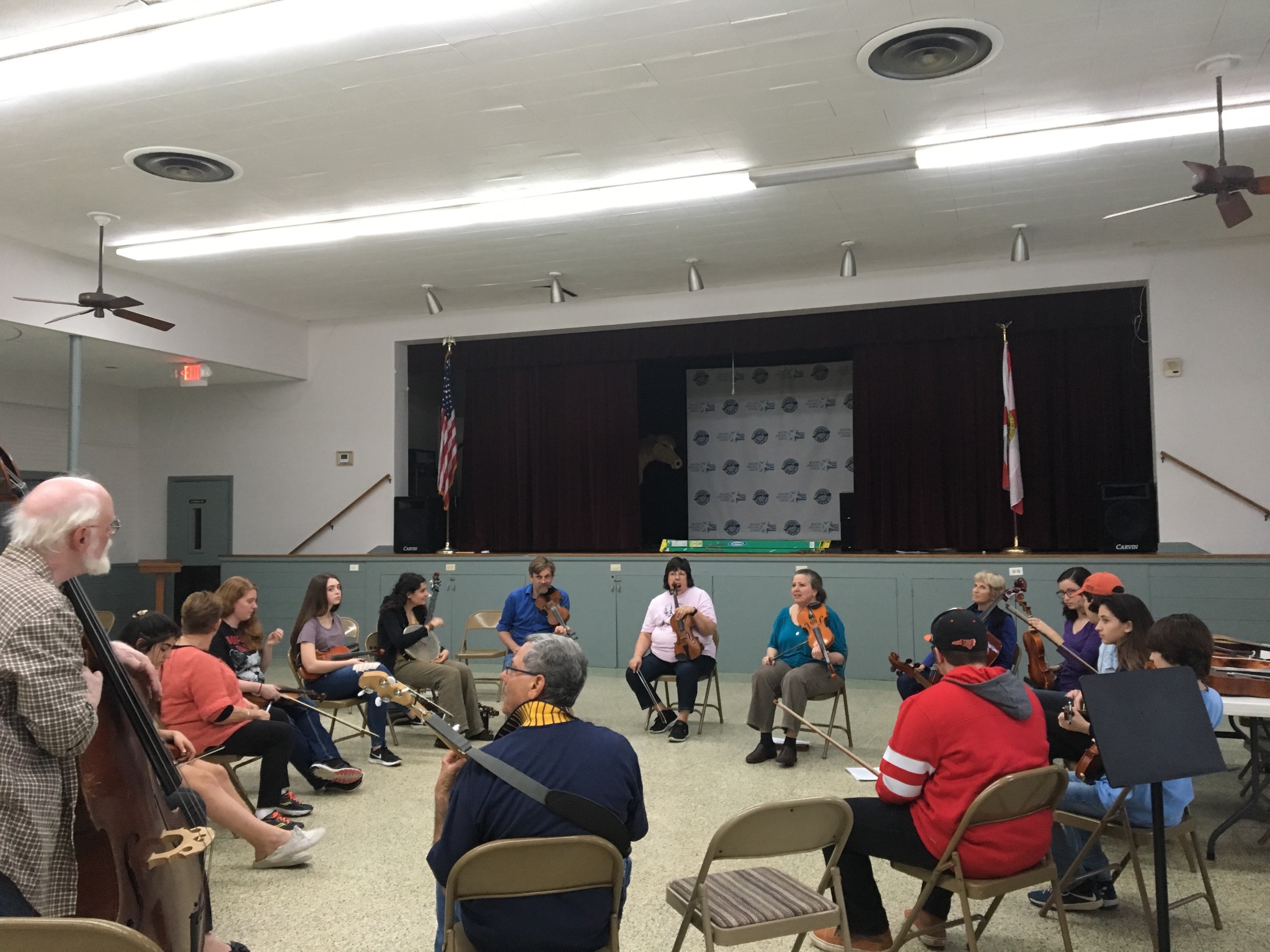 ---
Even if you don't play an instrument, please join us on Valentine's Day 2020 for potluck dinner with musical jamming (bring a dish and beverage) at 6 pm, faculty concert at 7, and family contra-dancing 7:30-8:30 pm. Suggested donation is $20.
If you do play violin, viola, cello, or bass, we invite you to join the FFF Orchestra! Rehearsals are Friday 2/14 at 4 pm and Saturday 2/15 at 3:30 pm. Casual performance at Presentations for family and friends Saturday at 5 PM.
If you play banjo, guitar, ukulele, flute/whistle, mandolin, harp, spoons, washboard...please come jam with us!
See below for the full workshop schedule, and let us know if you have questions.
Full weekend price is $120, or $100 for Saturday only. Please contact us via email lindacello@gmail.com because this website form submission is out of order. Thanks.
Please tell us about yourself, if we don't already know you. Which instrument(s) you play, your level and age would be helpful. We'll contact you to confirm and arrange for payment.
~ALL EVENTS are in PARISH HALL~
St Paul's By the Sea Episcopal Church
Jacksonville Beach, FL
Friday, February 14, 2020 Schedule
Happy Valentine's Day!
4 pm Orchestra rehearsal OR Waldorf/Dalcroze
6 pm Potluck Dinner with Jamming (please bring a covered dish and beverage. We'll supply water, but please bring your own cup or water bottle to refill!)
7 pm Faculty Performance
7:30 Family Contra Dancing
Saturday, February 15, 2020 Schedule
(subject to change)
9:30 am -10:00 meet, greet in the Community Room
10:00-10:50 Landon discusses Jam Session Etiquette OR Dalcroze and other musical activities for children 10 and under
11am - noon classes by instrument and level (TBD)
noon to 1 pm Lunch
1pm - 2pm Please choose from: Playing by Ear with Landon and Philip; Scottish and Old Time music with Aisha; Irish music with Scott; Singing with Jennie; Ukulele with Linda
2:10 pm -3:00 pm Jam Bands (smaller groups are formed to create their own unique arrangements of designated tunes)
3:00 pm - 3:30 pm Snack, Instrument Zoo (deadline to sign up to perform at Sunday's Fundraiser)
3:30 pm - 4:50 pm Orchestra OR Beginners' class
5 pm Presentations (a casual performance to recap highlights from the classes. Orchestra performs, family and friends are encouraged to attend. We'll end with Sasha, a dance.)
6:30 pm Dinner (potluck, byob) with jamming at the Trem residence near Hodges and Beach Blvd.
Sunday, February 16, 2020
3 pm Rehearsal, 4:30 pm Performance in St Augustine Students (sign up on Saturday) play with faculty for Fundraiser for Audubon Society in a beautiful historic home.